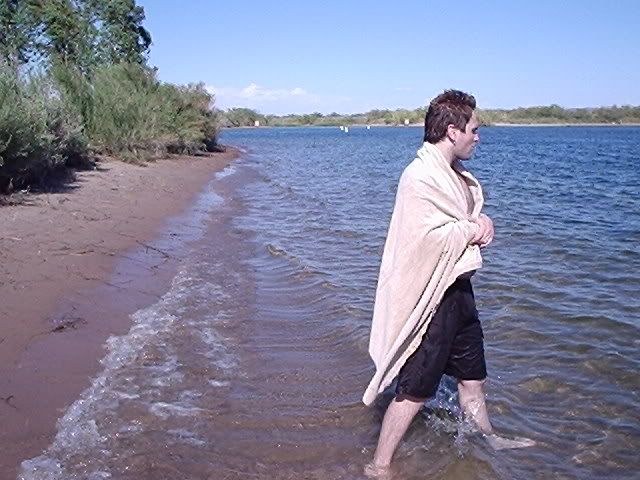 isn't he cute when he looks like moses?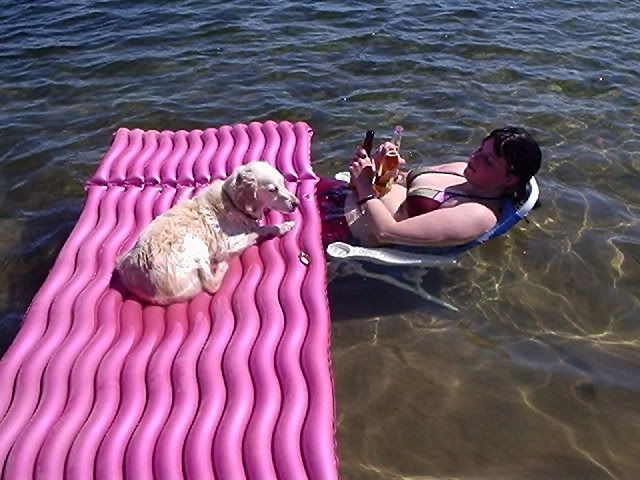 I blew up the raft for michael and i to use, and the dog took it over as soon as I put it into the water. Not that I minded all that much. I had a chair and beer.

We put the Sea-Doo into the water today. Michael has so much fun on it. I'm kinda over it, myself, but as long as he has fun. Having the Sea-Doo let us go to a more isolated little area of the beach - no barking beagles and splashing kids. Water two feet deep for ten feet out, with little yellow fishies swimming around.

Don't know what the plan is for tonight. I've got to drive into town to put gas in the truck (and i'm kicking myself for not doing it yesterday) so that I can drive up to havasu tomorrow to meet my friend shellee for dinner. I'd just get gas on the way out tomorrow, but I don't think that there are any gas stations between here and havasu.

I'm getting a tan.

as for right now, we're sitting around, watching "I <3 the eighties" and trying to rehydrate. and gloating about being on vacation. Harley is next to me on the couch, smelling like wet dog. Portabello mushrooms are marinating in the fridge, and when i get back, I'm going to fire up the grill and make portabello bugers.