last cigarette: at about four am, with Levi, so i didn't throw things at co-workers.
last good cry: Last week. After that dream.
last book read: "Small Gods" Terry Prachett
last movie seen: Sin City
last beverage drank: water
last food consumed: a sandwich, this afternoon.
last phone call: Heather, a few minutes ago. But i texted kylie after that.
last tv show watched: Law and Order.
last cd played: Switchblade Symphony
last item bought: cat food
last downloaded: Nick Cave
last annoyance: distance and time.
last disappointment: communication issues.
last soda drank: Diet Coke.
last thing handwritten: by hand? my claim number for the damage to my car.
last word spoken: "bye" to Heather.
last sleep: i woke up at about 6pm yesterday ... so i've been up 27 hours. no wonder i'm groggy.
last im: Alex and Andy, a little while ago.
last weird encounter: The whole vegas trip was a weird encounter.
last ice cream eaten: it's been ages. I don't really eat ice cream.
last amused: talking to andy about the wonderwoman costume plans for comic-con.
last time wanting to die: Heh. Saturday night, trying to stay awake through my shift.
last time hugged: Saturday, i think. danny, when i left vegas.
last chair sat in: My computer chair, the one i'm in now.
last lipstick used: MAC "Full Bodied" lipstick
last shirt worn: soft button up sweater thing with three-quarter sleeves. black.
last poster looked at: Giger, above my desk.
last webpage visited: LJ!
current clothes: The above mentioned sweater top thing, purple pajama pants, pink leopard bra.
current mood: Groggy and bored
current music: Black Flag - Slip It In
current taste: none, really.
current hair: messy ponytail. i am so not glam today.
current annoyance: communications, distance ...
current smell: the stuffy aroma of my house.
current thing I should be doing: homework and bills.
current desktop picture: Babyland (this one)

1. What do you most like about your body? heh. i like ... i like my strength. i like that i'm reducing.
2. And least? ghetto booty. it doesn't go away.
3. How many fillings do you have?: um ... more than a few? i need to get more.
4. Do you think you're good looking?: sometimes, to some people.
5. Do other people tell you that you're good looking? yes. i don't believe them. i know what i look like when i wake up.

ARE YOU...
Understanding: Yes.
Open-minded: I try.
Arrogant: absolutely.
Insecure: Yes.
Interesting: probably not.
Random: i try not to be ...
Hungry: I'm starving.
Friendly: not so much.
Smart: Yes.
Moody: VERY.
Independent: no. i need people.
Hard working: very.
Organized: sometimes. with somethings.
Healthy: well, there's the diabetes problem ...
Emotionally Stable: oh, hell no. but better now than before.
Shy: extremely.
Difficult: oh yeah.
Attractive: i hope so.
Bored Easily: no. give me something shiny, i'll entertain myself.
Messy: Sometimes.
Thirsty: yes
Responsible: very.
Obsessed: i have my moments ...
Angry: No. but when i am ...
Sad: maybe just a little bit.
Happy: happier?
Hyper: almost never.
Trusting: i try not to be, it gets me in trouble.
Talkative: when i'm comfortable.
What does your name mean? it's irish, means "brave". I'm so not.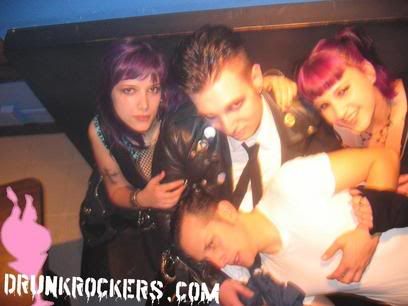 i know i stole it .... but at least i'm hosting it myself.

I probably should have gone out tonight, but i didn't want to nap this afternoon, i have homework and school tomorrow, and i hardly ever spend time with my animals ... so it's probably best that i stay in and get stuff done.
But i want to go dance ... maybe tomorrow, after school. anyone going anywhere?