Michael and I actually left the house last night, visiting Skandal at Victoria's recommendation. I had more fun than I even expected, dancing a bit and drinking a bit more. Michael got to hear the Peter Murphy that he wanted, even though he wouldn't dance to it. I met Victoria's husband, and he seems like a very nifty guy. and skinny!

We left towards the end, and went for a drive around the hills behind the house, taking one dirt road (hey, i'm in my mom's car) almost to the top of March Mountain.

When we used to carpool, Audra would warn me about burros that wander across the roads back there. I laughed it off, thinking that the area couldn't possibly still be that rural.

Well, last night I had to stop the car so that a burro could cross the road in front of me. It was just a bit on the surreal side. Of course, I had my camera with me ...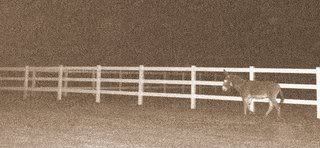 We're having a bit of a boring day tonight ... i'm not feeling awesome (cramps of DOOM) and I don't think he is either, so we're at home, catching up on the stuff recorded on the DVR. Maybe I'll try and talk him into a beer run later. We're so domestic some days.