I'm selling this, I'll never use it again. Comes with a box of accessories, charcoal, and a bunch of (probably somewhat stale) tobacco. $25, I'll ship but you'll pay for shipping.

It's in good shape, has been in storage for a while. Not heavily used.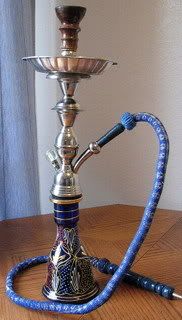 I've also got a small Fender bass amp I should probably get rid of. Anyone interested, let me know.

oh, and a yoga mat free to anyone who wants it!

ETA: Hookah is gone. Bass amp is still available. $25 for that too, i guess. Come pick it up!